Make your house the most festive, fall-friendly one on the block.BY COUNTRY LIVING STAFFJUN 12, 2019
It's fall, y'all! Not only does this widely-anticipated season scream cozy hayrides and all pumpkin everything, but it also means it's high time to swap out your old warm weather decorations and make way for new autumn home decor. There's no shortage of ways to dress up your interior for the occasion, but make a statement before friends and family even walk in the door with any of these gorgeous fall porch decor ideas. Wreaths, gourds, garlands, and more will instantly add curb appeal and get your home in the seasonal spirit. There's truly something for every porch color palette, be it a neutral mini pumpkin patch to contrast a bright front door, or corn stalks to complement a lighter setup. Space won't be an issue for these outdoor fall decor pieces either. Smaller spots can make do with a DIY crate display or basic burlap banner, whereas you can dress up more spacious wraparounds with plaid couch pillows and bales of hay. And know that you don't need to go all fall to the wall—simple touches like a blanket-covered rocking chair or a chalkboard sign will easily suffice and look just as nice. Ultimately, whether you go with something classic, modern, or unexpected, there's a look that's sure to fit your style.

GRAY HOUSE STUDIOFall Crate Display
Add height to your porch pumpkins and fall plants by painting and stacking a few wooden crates. Align them however you please, then line with the bottom with hay.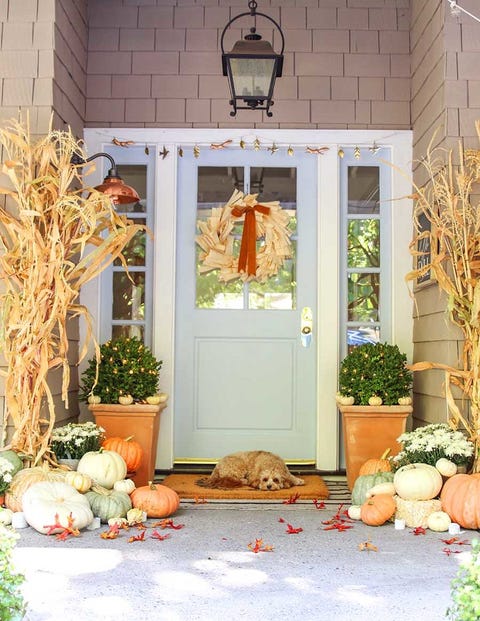 Matching cornstalks, an array of pastel pumpkins, and a charming door wreath bring this neutral color palette to life. If you look closely, you can also see more mini pumpkin inspiration lining the topiaries.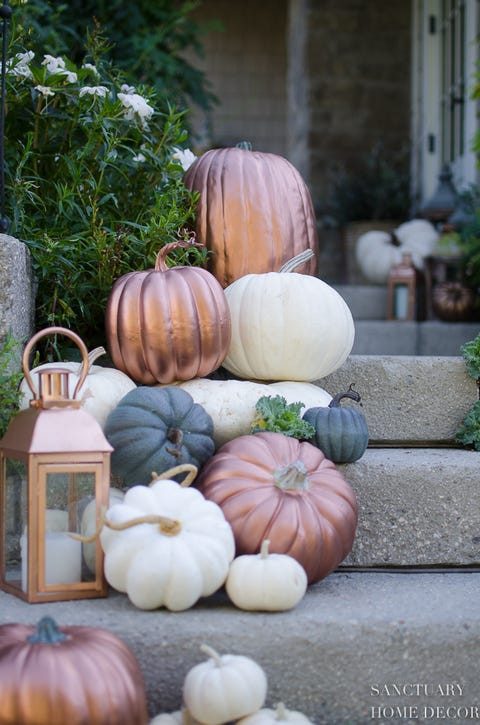 SANCTUARY HOME DECORGo Bright and Metallic
Plain orange pumpkins are classic, but you can also brighten up your front steps with cascades of copper, off-white, and gray. Bonus points if you have lanterns on hand that are fit to match.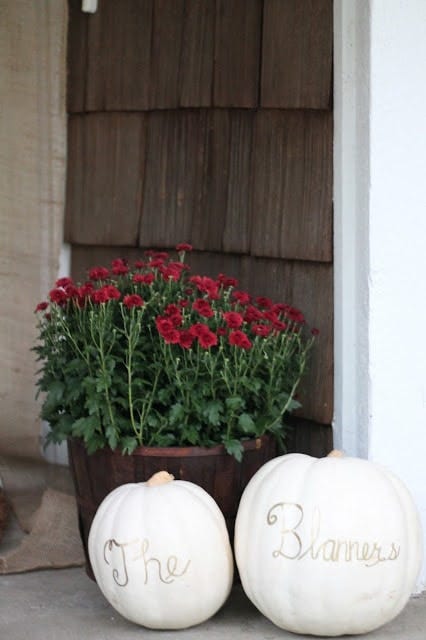 JULIE BLANNERPersonalized Pumpkins
Who needs a doormat when you can commemorate your family's last name with the next best thing—front porch pumpkins!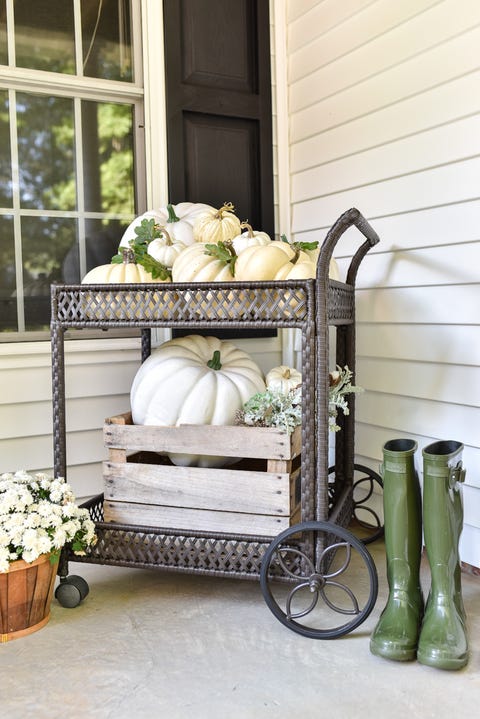 HOME STORIES A TO ZPumpkin Cart
Give your outdoor bar cart more time to shine this fall by stashing pumpkins and gourds on each shelf. Add more flair by interspersing a bit of greenery.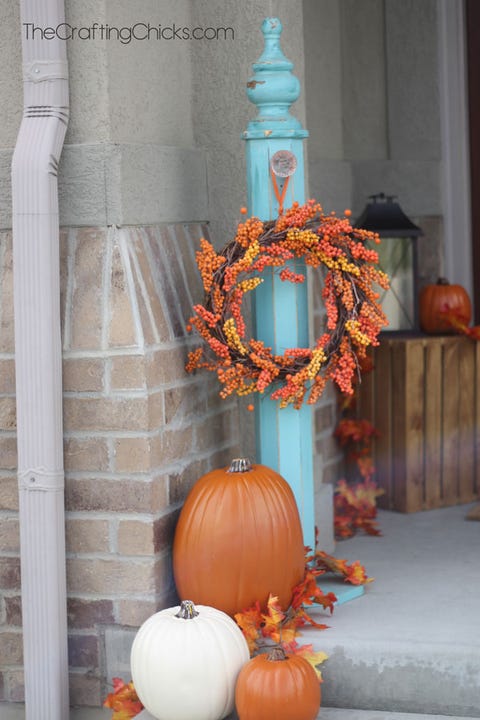 This blogger dressed up a teal post (which stays put as a year-round porch staple), with a bountiful fall wreath and faux pumpkins.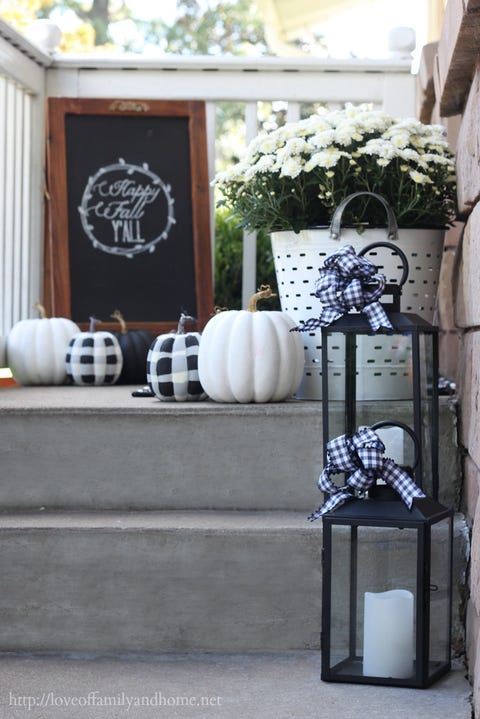 LOVE OF FAMILY AND HOMEBlack and White Details
Aside from the basics, like painted pumpkins and seasonal signs, you can instantly dress up your outdoor entryway with a few cozy lanterns. Top them off with decorative bows to make even more of a statement.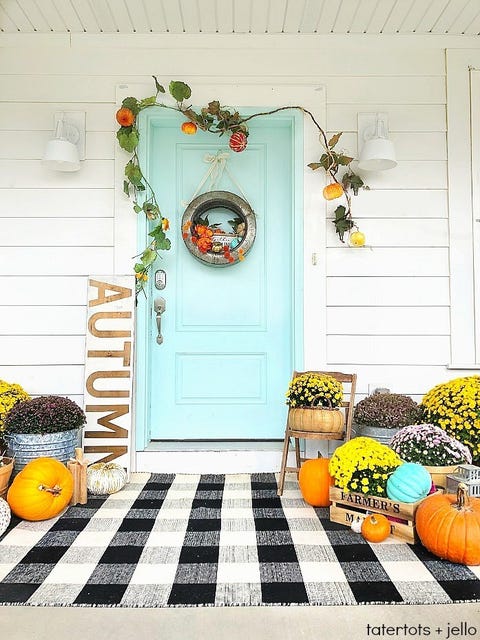 TATERTOTS & JELLOMad for Plaid
We don't know which part of this porch setup we love more—the black and white plaid rug, the rustic galvanized wreath, or the overall beautiful color contrast.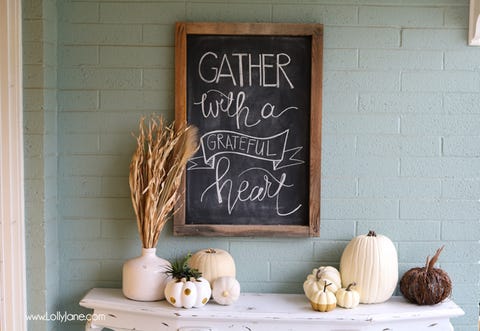 LOLLY JANECozy Chalkboard Corner
No need to scour the craft store for pretty outdoor fall signage—these bloggers provided a free printable version of this adorable chalkboard-inspired message. Prop it up beside your front door, or let it hang above a pumpkin-adorned table.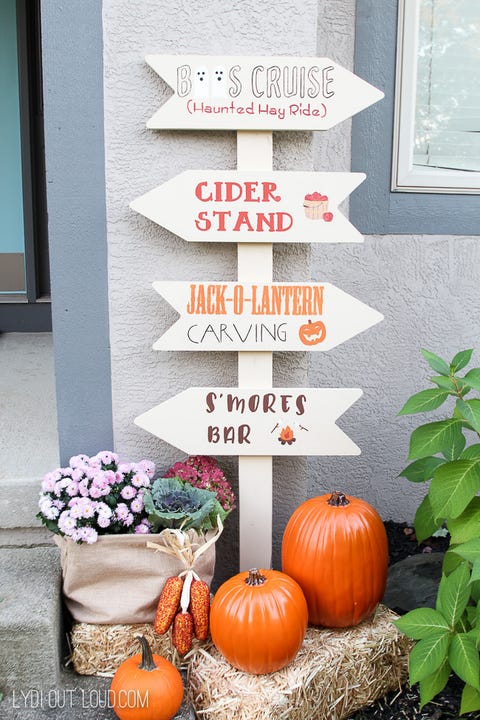 Set the mood with this handmade sign, which emphasizes every fall festival delight.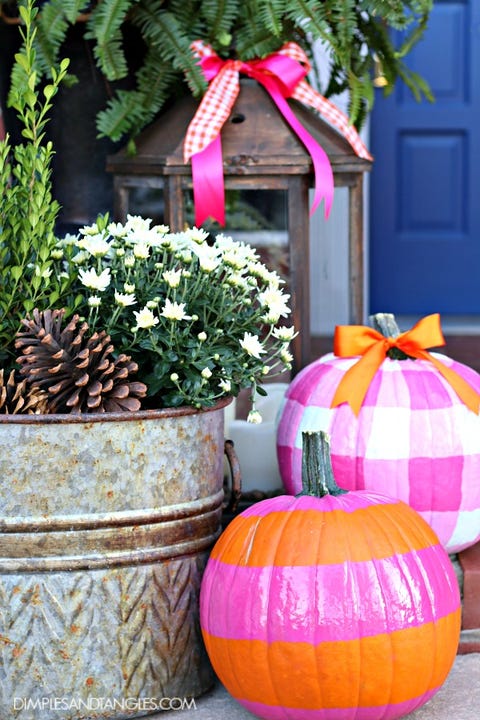 DIMPLES AND TANGLESPretty and Pink
Channel your inner girly girl with this unexpected—but super cute—color scheme for fall. This blogger incorporated hot pink and bright orange in her wreath, pumpkins, and lanterns.
COURTESY OFOrange Mums and Gourds
Use fresh flowers and lots of little gourds to welcome guests up the steps of your home.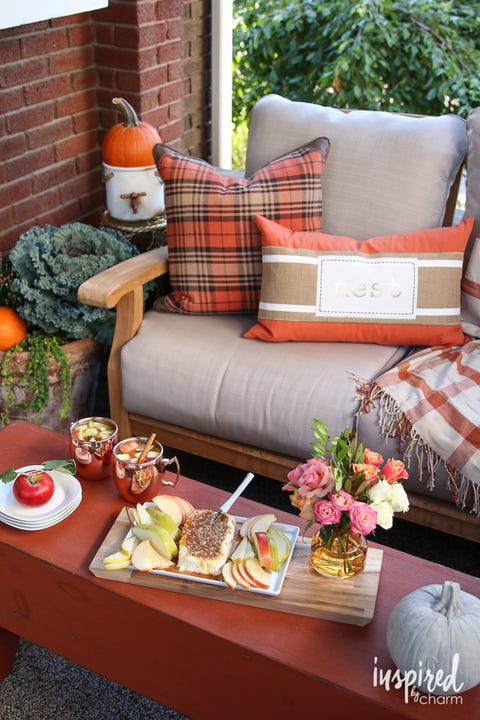 Plaid pillows and blankets not only add a cozy look to your porch, but they'll also keep you warm on chilly autumn nights!
If low-key is more your style, trade in bright hues for softer shades of blues, whites, pinks, and peaches, as seen in the pumpkins, mums, and wreath here.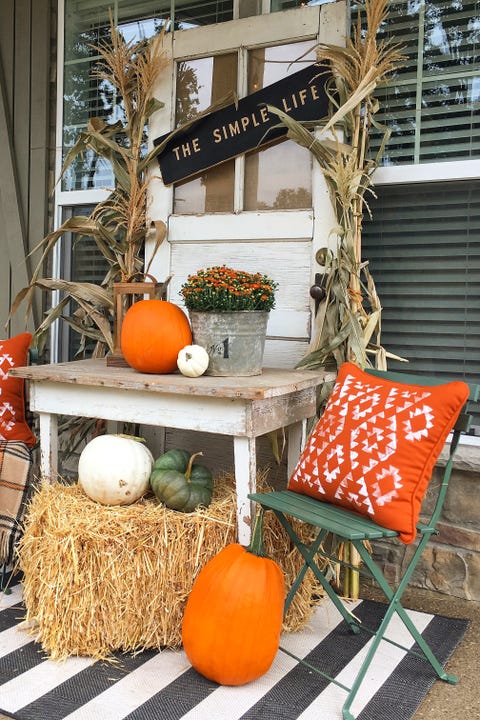 COURTESY OFGreen and Orange Decor
Traditional orange decor will pop against a variety of green shades. Incorporate these items with corn stalks and hay bales for a fresh fall look.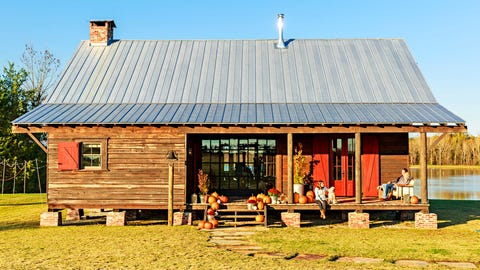 LINCOLN BARBOURPumpkins Galore
The owners of this Alabama dogtrot home kept it simple this year with mums and plenty of pumpkins.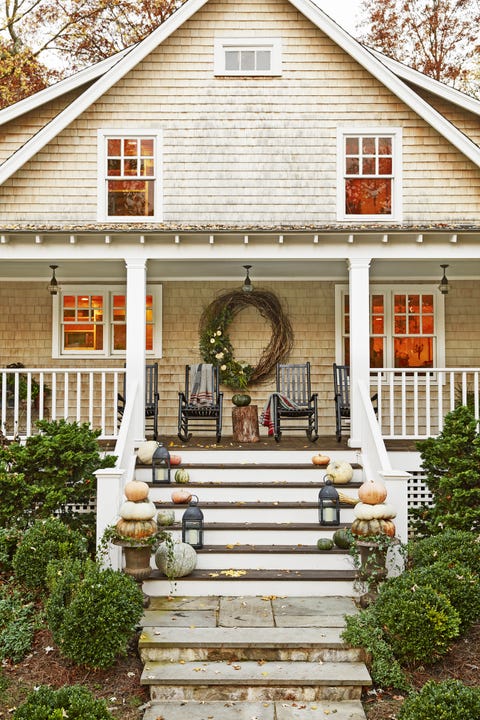 More is more! This Connecticut porch uses up every bit of space with a giant wreath, different gourds, and several throw blankets.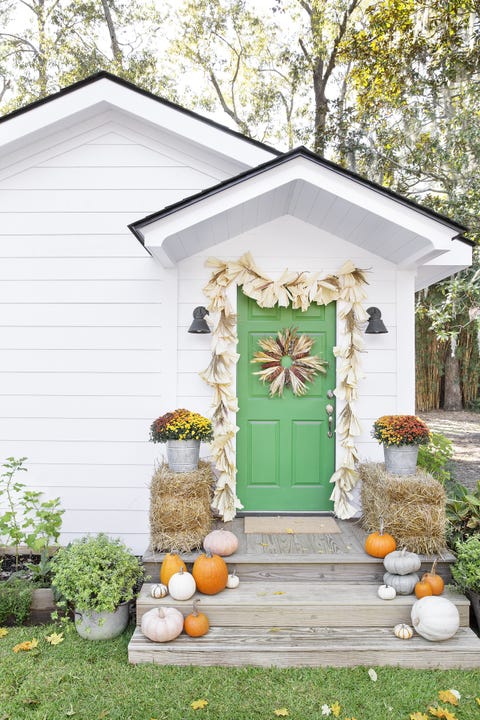 CHRISTOPHER SHANEDecorate with Corn Husks
Add some serious seasonal curb appeal with these easy autumn DIY projects.
For the garland: Cut a piece of ½-inch jute rope to your desired length (add a few extra inches to get the drapey effect at the top) and attach corn husks and silks with a hot-glue gun. (You can also use tamale wrappers.)
For the wreath: Start with a flat-wire 18-inch frame. Hot-glue corn husks (roughly 18) and corncobs (roughly 9) in an alternating pattern. Fray the ends of the corn husks to add dimension.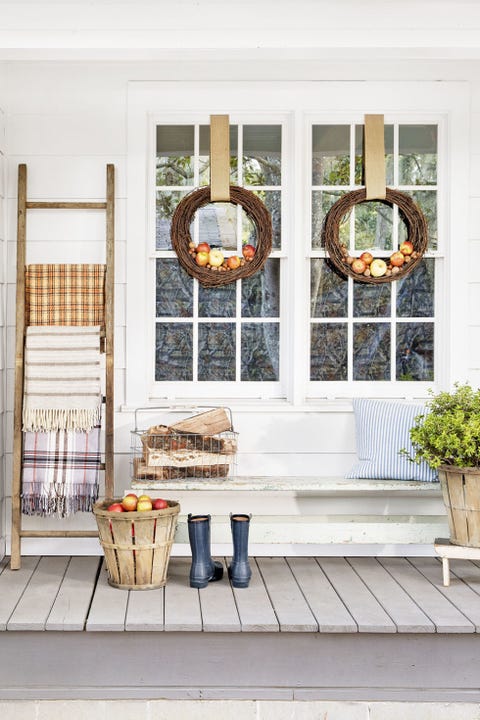 CHRISTOPHER SHANEPretty Up The Porch
No need to break the bank for this simple look—you probably already own most of these materials.
If you have a wooden ladder: Display a cozy blanketon each rung.
If you have a grapevine wreath: Dress it (or a pair) up by nesting nuts and apples in the lower half, then hang with 3-inch-wide burlap ribbon.
If you have a bushel basket: Repurpose it as a rustic planter, or use it to corral outdoor items.
COURTESY OF TARYN WHITEAKERCreate a Defined Color Palette
A neutral color palette doesn't have to be boring! Use spray paint to coat pumpkins in white or metallic gold for a modern but simple scheme.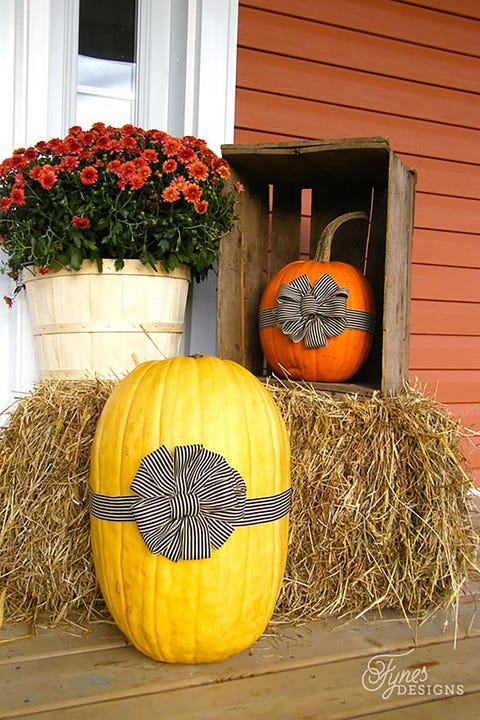 COURTESY OF FYNES DESIGNSSkip Out on Carving Pumpkins
Instead of spending hours carving or painting pumpkins, add some flair by tying patterned ribbonaround them.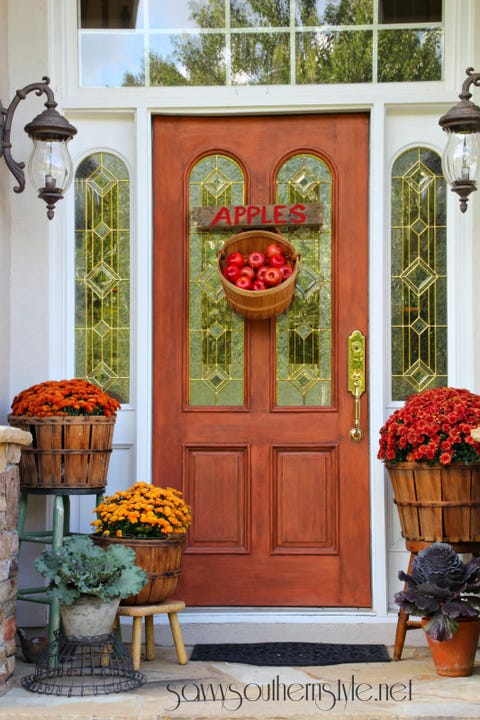 COURTESY OF SAVVY SOUTHERN STYLEChoose Unexpected Door Decorations
When it comes to curb appeal, your front door is prime real estate. This year, create an eye-catching display by forgoing a classic wreath for a creative seasonal display, like an apple basket.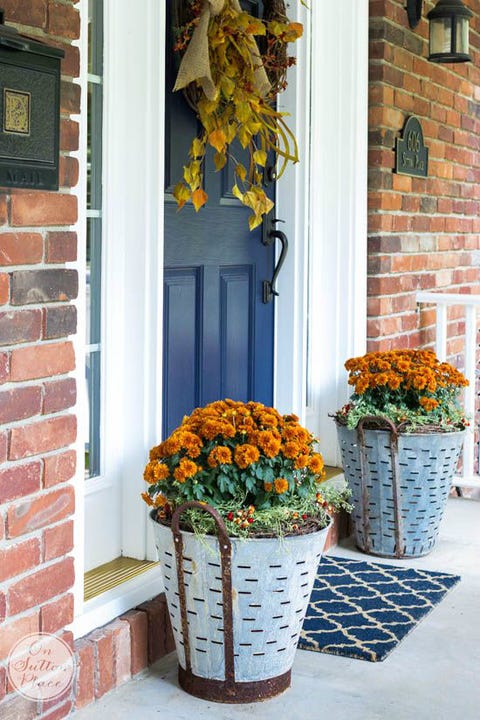 COURTESY OF ON SUTTON PLACEPlant Seasonal Blooms in Rustic Planters
The summer days of tending to your garden may be dwindling, but garden lovers rejoice: Thanks to their late growing season, mums are the perfect floral for fall. Flank your door with olive buckets (search Etsy to find 'em) stuffed with these bright flowers.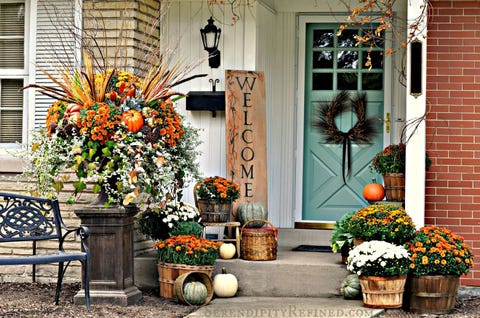 COURTESY OF SERENDIPITY REFINEDMake the Most of a Small Space
This blogger didn't let her farmhouse's lack of a full porch stop her from decorating for fall. Instead, she made good use of the space she does have by lining her steps with bundles of mums and pumpkins.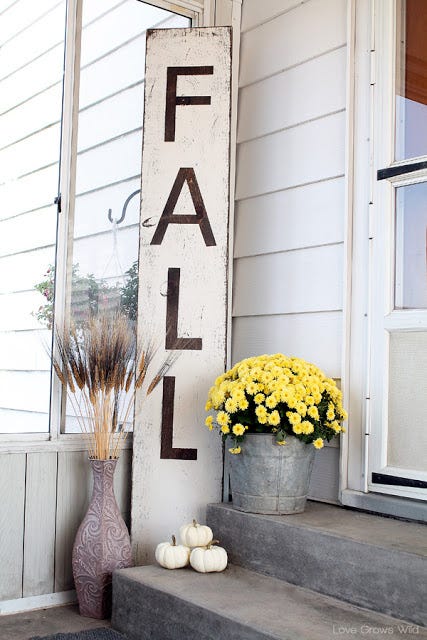 COURTESY OF LOVE GROWS WILDSpell It Out
Reclaimed wood or shipping pallets are the perfect base for an oversized sign with a distressed finish to adorn your porch.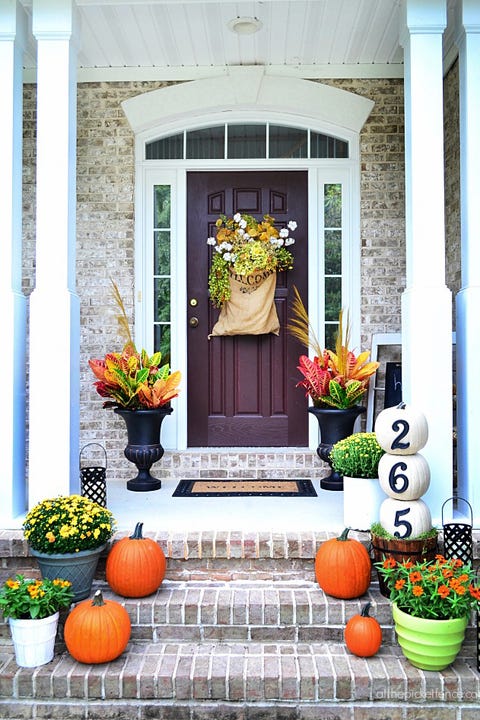 COURTESY OF AT THE PICKET FENCETurn Pumpkins into a House Number Display
From the burlap sack door decoration to its use of symmetry, there's a lot we love about this pretty porch. But the fall-ready pumpkin topiary is the real eye-catcher.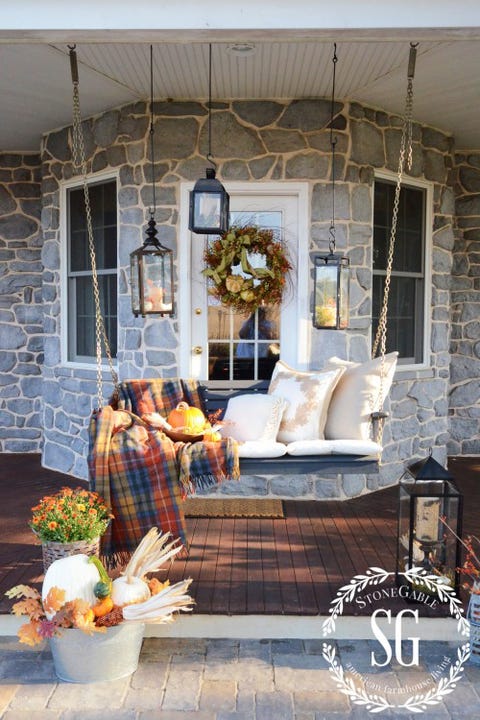 COURTESY OF STONE GABLEMake Use of What's Already There
If your porch is always adorned in furniture, transform it for fall with a few quick updates. This porch swing went from a summer hangout spot to a cozy autumn retreat thanks to plush pillows and a tartan throw.
COURTESY OF OUR VINTAGE HOME LOVEDecorate With Corn Stalks
Large corn stalks are definitely eye-catching as visitors approach this porch. A closer look also reveals endless beautiful details, such as hanging lanterns and a "boo" ladder, that are all cohesive thanks to their light and clean color palate.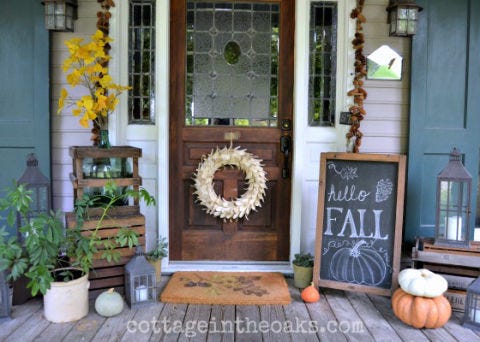 COURTESY OF COTTAGE IN THE OAKSWelcome the Season with a Chalkboard Sign
This porch is cute, of course, but thanks to its chalkboard sign (which can be updated for Halloween or Thanksgiving) its decorations are also versatile throughout the season.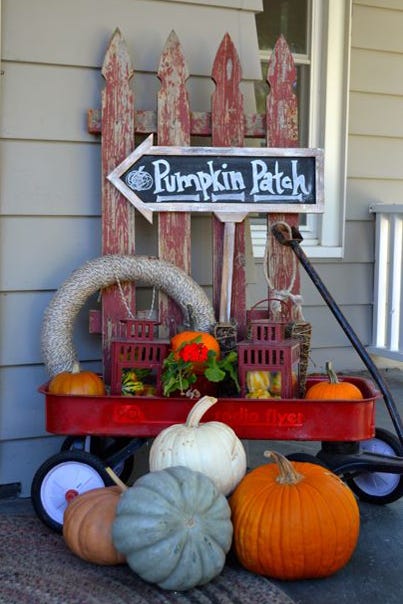 COURTESY OF NEWLY WOODWARDSRepurpose a Little Red Wagon
Create a cute fall-ready display using a repurposed little red wagon with room for tons of pumpkins, gourds, and antique finds.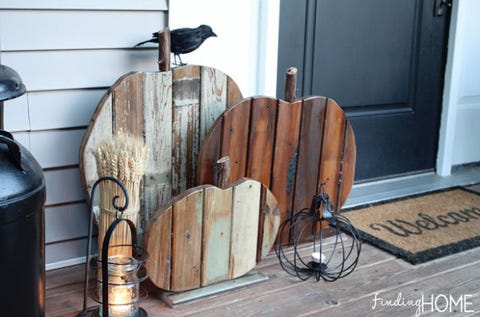 COURTESY OF FINDING HOME FARMSDIY Your Own Pumpkins
When it comes to fall decorating, it's not a question of whether you'll have pumpkins, it's where you'll put them. This year, get creative and carve your own rustic pumpkins out of reclaimed palettes. Your porch will certainly stand out in a sea of black and orange!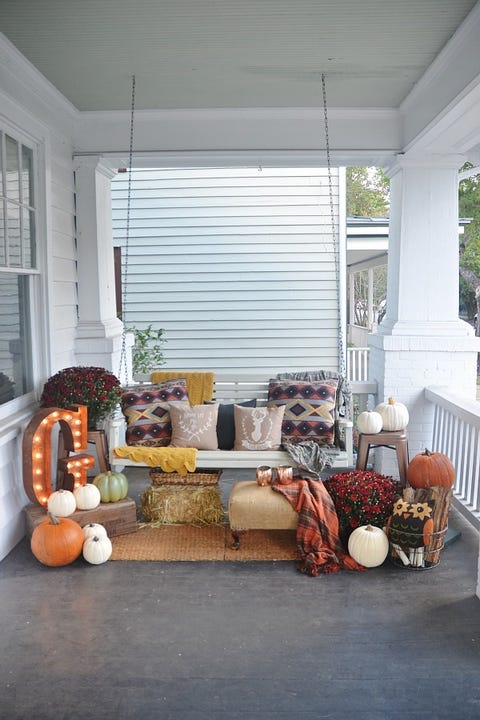 COURTESY OF LIZ MARIE BLOGCreate a Cozy Seating Area
Make your porch bench or swing the ideal spot for relaxing in the crisp fall weather by adding cozy pillows and blankets. Pumpkins, flowers, and vintage finds add the perfect finishing touches.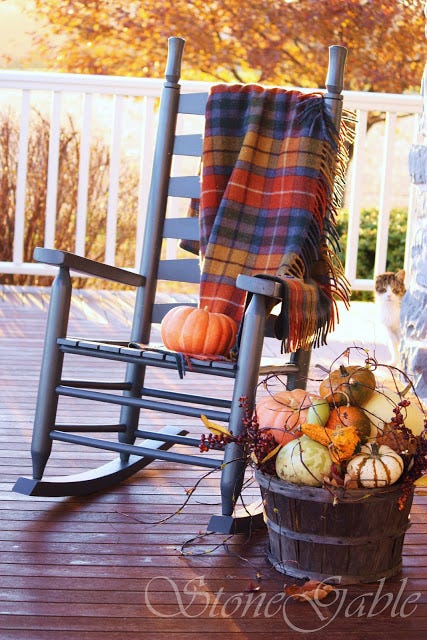 COURTESY OF STONE GABLE BLOGAdd a Rocking Chair
There's no better spot to relax on a chilly day than a rocking chair (and under a plaid blanket, no less!) with hot apple cider in hand.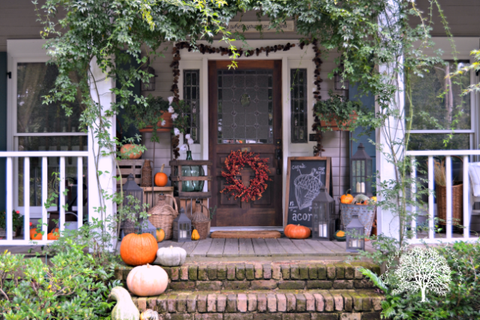 COURTESY OF COTTAGE IN THE OAKSFlank The Door
Seeing as the vines on this porch already frame the home's front door, it only makes sense that any decorations should do the same. Wicker baskets and barrels of fall treats add extra dimension.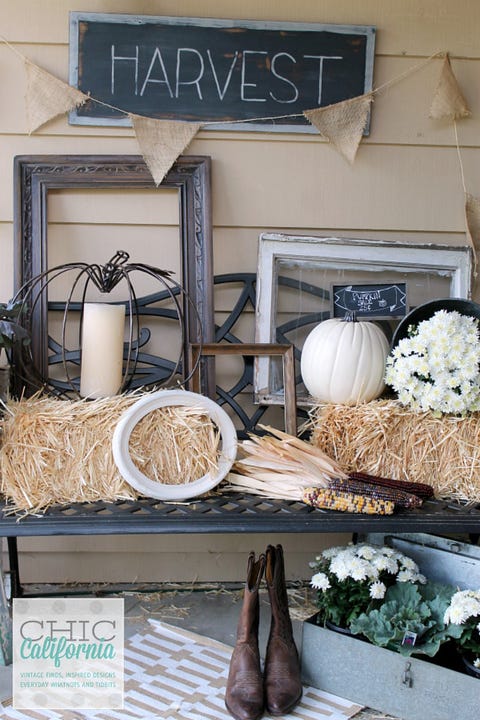 COURTESY OF CHIC CALIFORNIADisplay Thrift Shop Finds
This blogger describes her porch as "farm fresh and vintage with a hint of glam." Thrifty finds such as a metal pumpkin candle holder and shabby chic frames blend in with seasonal touches in this harvest display.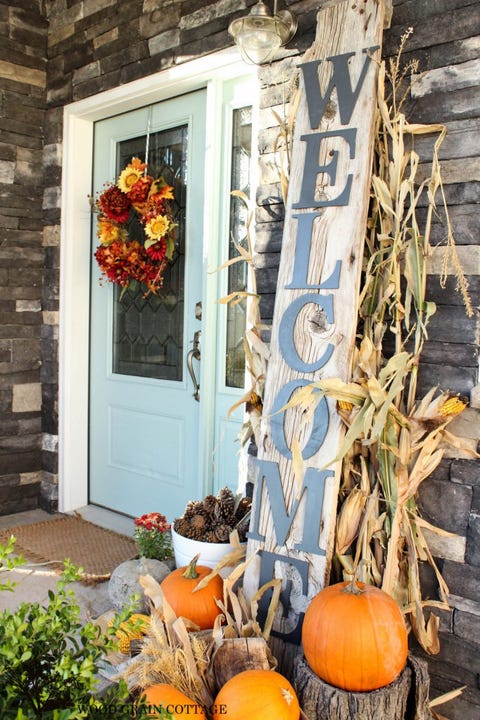 COURTESY OF THE WOOD GRAIN COTTAGEWelcome Guests
A rustic sign will add plenty of country charm while setting an inviting atmosphere for your guests.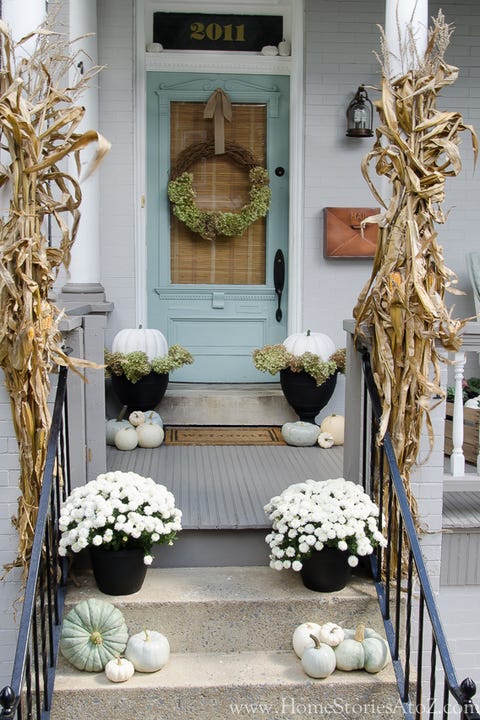 COURTESY OF HOME STORIES A TO ZUse a Light Color Palette
Add a touch of sophistication to your porch by forgoing the classic reds, oranges, and yellows for decorations in light blues and whites.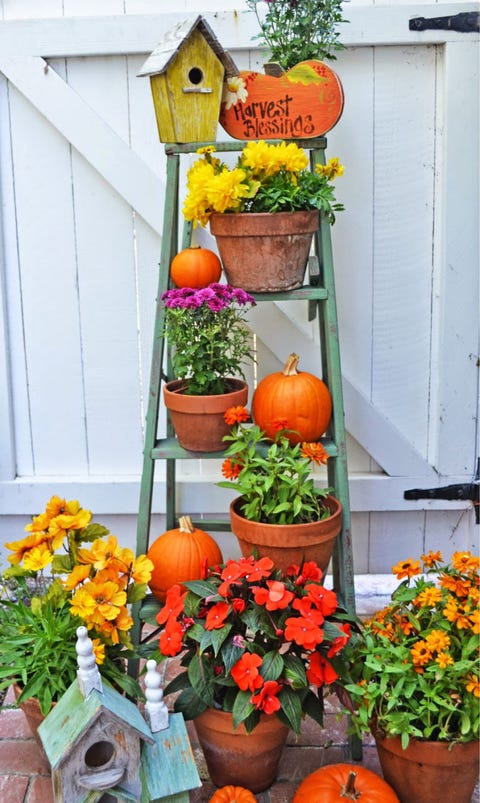 While this blogger used a ladder to decorate her garden, we think the seasonal display would be well suited for a porch, too.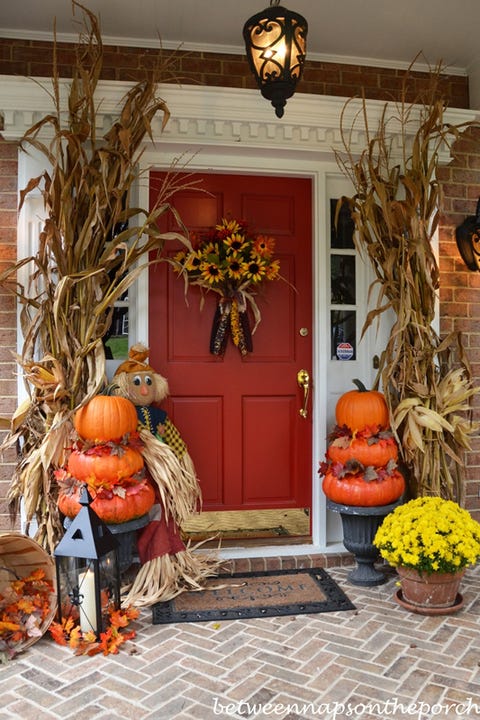 COURTESY OF BETWEEN NAPS ON THE PORCHCreate Symmetry
Load your porch with an abundance of seasonal flair. Make sure your decor is symmetrical on either side of the door to keep the space from becoming too busy.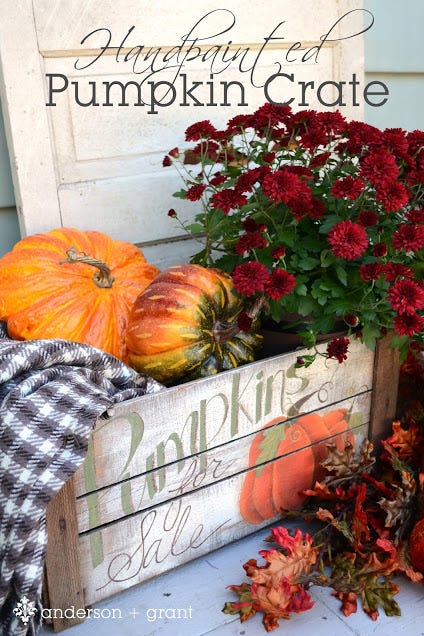 COURTESY OF ANDERSON + GRANTPaint a Pumpkin Crate
After your trip to the pumpkin patch, try adding some DIY flair to more than just your gourds.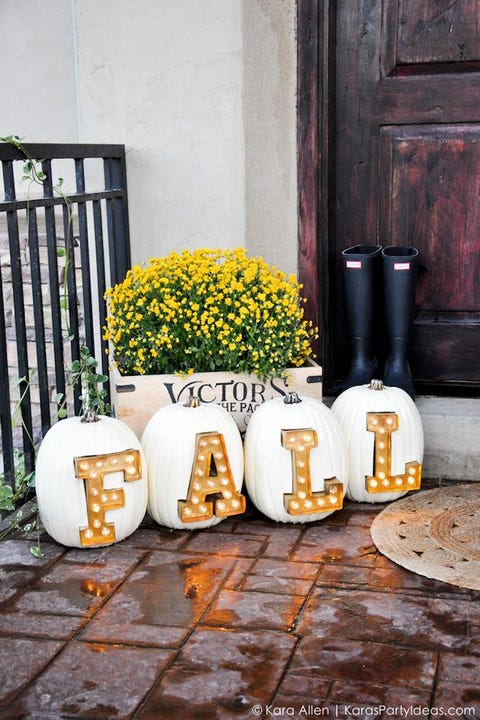 COURTESY OF KARA'S PARTY IDEASPut It In Lights
These cheerful pumpkins were made to be in the spotlight. Spell out "fall" using marquee light letters on pumpkins displayed near your front door.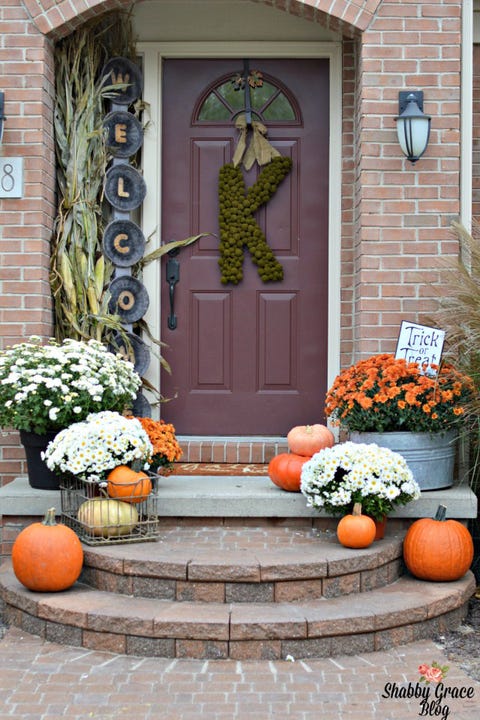 COURTESY OF SHABBY GRACEAlternate Flowers and Gourds
Line your steps using pumpkins and mums—a classic fall combination.
COURTESY OF ON SUTTON PLACECoordinate Colors
Nothing says autumn like burnt orange and burgundy hues. A cohesive color scheme is the best way to tie all your decorations together.
COURTESY OF OPULENT COTTAGEAdd Pillows to Keep Things Cozy
Add warmth to a basic bench with an oversized burlap pillow and plaid blankets.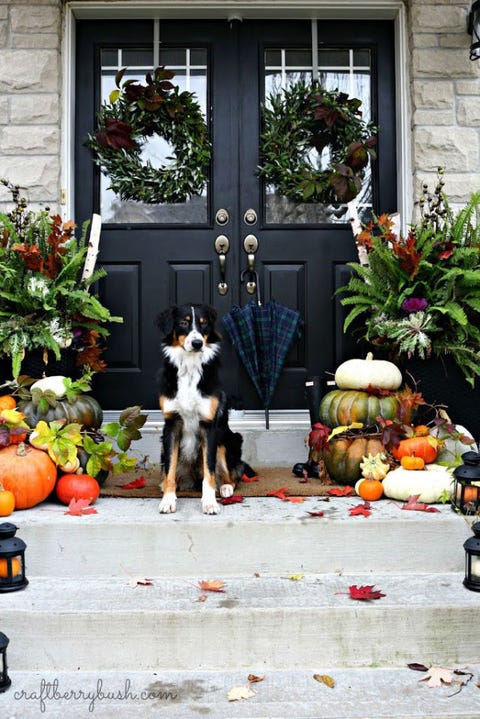 COURTESY OF CRAFTBERRY BUSHWhen in Doubt, Add More Gourds
Stack pumpkins of different shapes and sizes on top of each other to make the most out of a small space.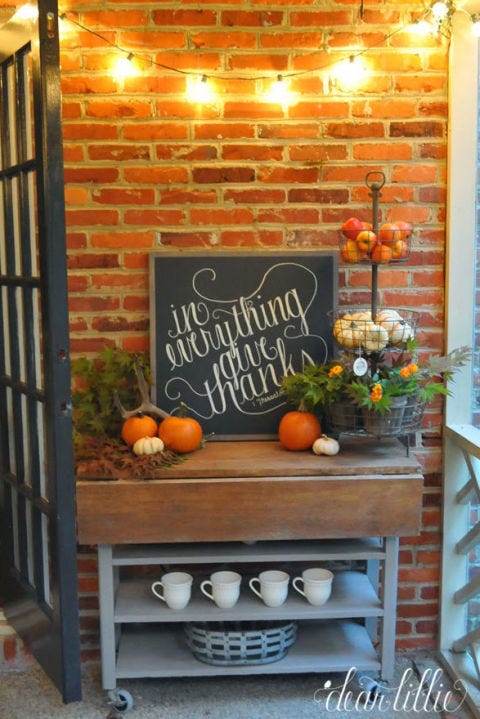 COURTESY OF DEAR LILLIEInspire Passersby
Remind guests what the season is really about with a cute chalkboard sign.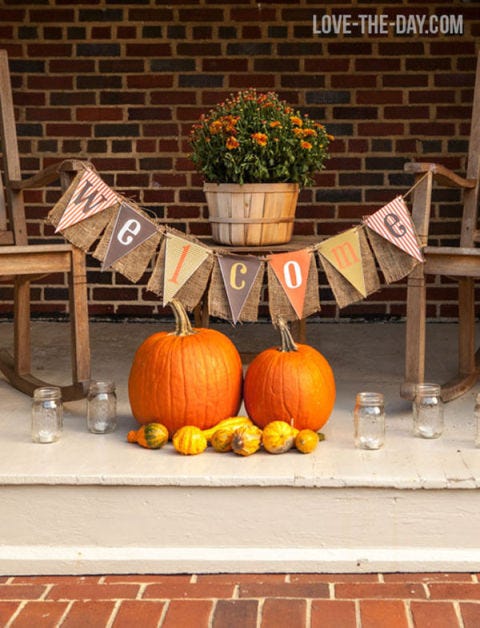 COURTESY OF LINDI HAWSHang a Banner
What better way to make guests feel at home than with a friendly banner made with burlap? We love how this one is coordinated to match the pumpkins and mums.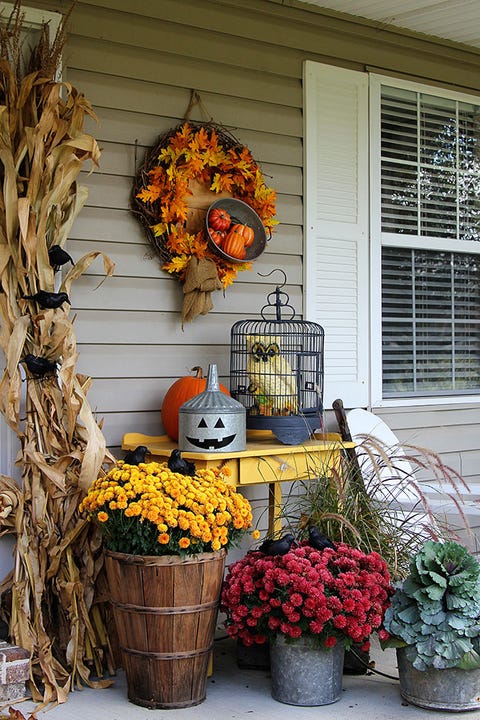 COURTESY OF HOUSE OF HAWTHORNESEasily Transition to Halloween
Blogger Pam of House of Hawthornes doesn't like to completely redecorate her porch for Halloween. Instead, she updates her fall decor with a few more festive finds like jack-'o-lanterns and crows come October. She suggests starting your hunt at the dollar store to keep things budget-friendly.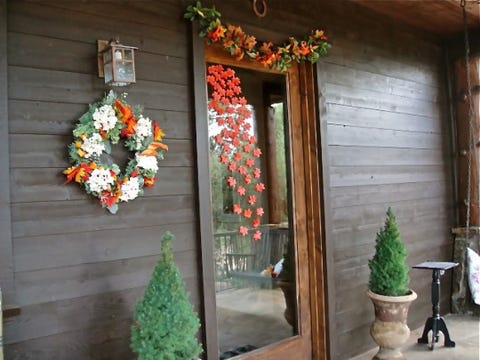 COURTESY OF COUNTRY DESIGN STYLEAttach Faux Leaves to Your Door
According to Jeanette of Country Design Style, all you need is hot glue to attach leaves to a glass door. After fall passes, she just peels the glue off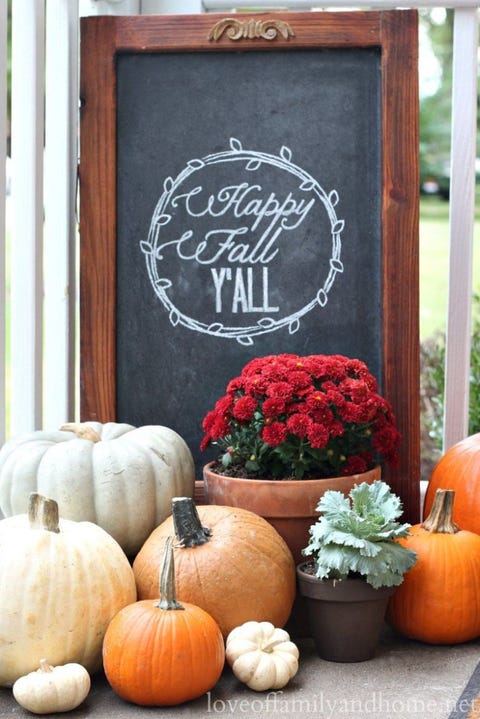 COURTESY OF LOVE AND FAMILY AND HOMEHappy Fall Y'all
Not sure where to start? This cute phrase will always be a hit